Lindenwood University Keynote Presentation⬇︎
⬇︎Missouri PBIS Conference Presentation (Student-led PBIS)⬇︎
Trauma-Informed Workshops Tailored for your Community:
1-Day Workshop: $3,000 plus travel/expenses
2-Day Workshop: $5,000 plus travel/expenses (preferred/price reduction incentive)
Example: (Day 1) Train/Equip/Empower Core Team with the tools to Lead District/School Movement.
(Day 2) Coach/Facilitate Core Team within targeted environments. next steps.
*It is imperative that we leave you NOT reliant on us, the outside consultant.
*The basis of our training is rooted in the Gradual Release practice of: I do, WE do, YOU do.
Package Services: For leaders also interested in transforming antiquated In-School Suspension Rooms into a more therapeutic, trauma-Informed, & restorative "Empowerment" Rooms, let us know. We can extend our stay and streamline the overall cost to you!
Are you trying to reduce Out-of-School Suspensions? No problem. This is our favorite part!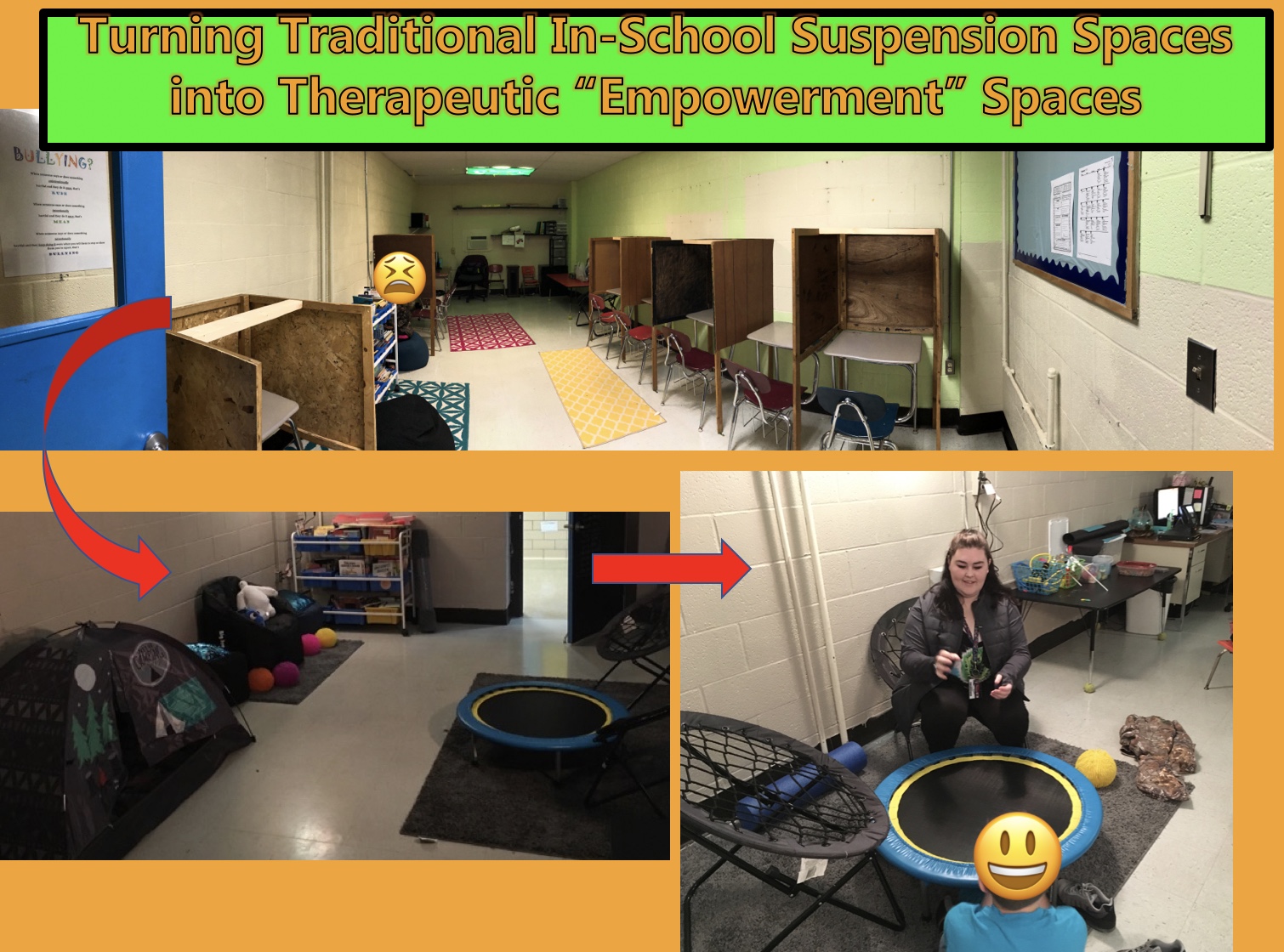 Transforming Traditional In-School Suspension Spaces into Restorative/Empowerment Spaces requires a complete school culture mindset shift. The physical changes that you see in the pictures is the easy part. Our team takes great pride in equipping your team with the tools and knowledge to begin this journey. Let's face it, you are already operating in initiative fatigue. It takes an experienced maestro to bring each part of your orchestra to life.
[Rate: $750/day, plus travel & expenses]
Drew's Guiding Hand: #pbis2018 #pbisforum. Bridging PBIS & Trauma-Informed with TOOLS!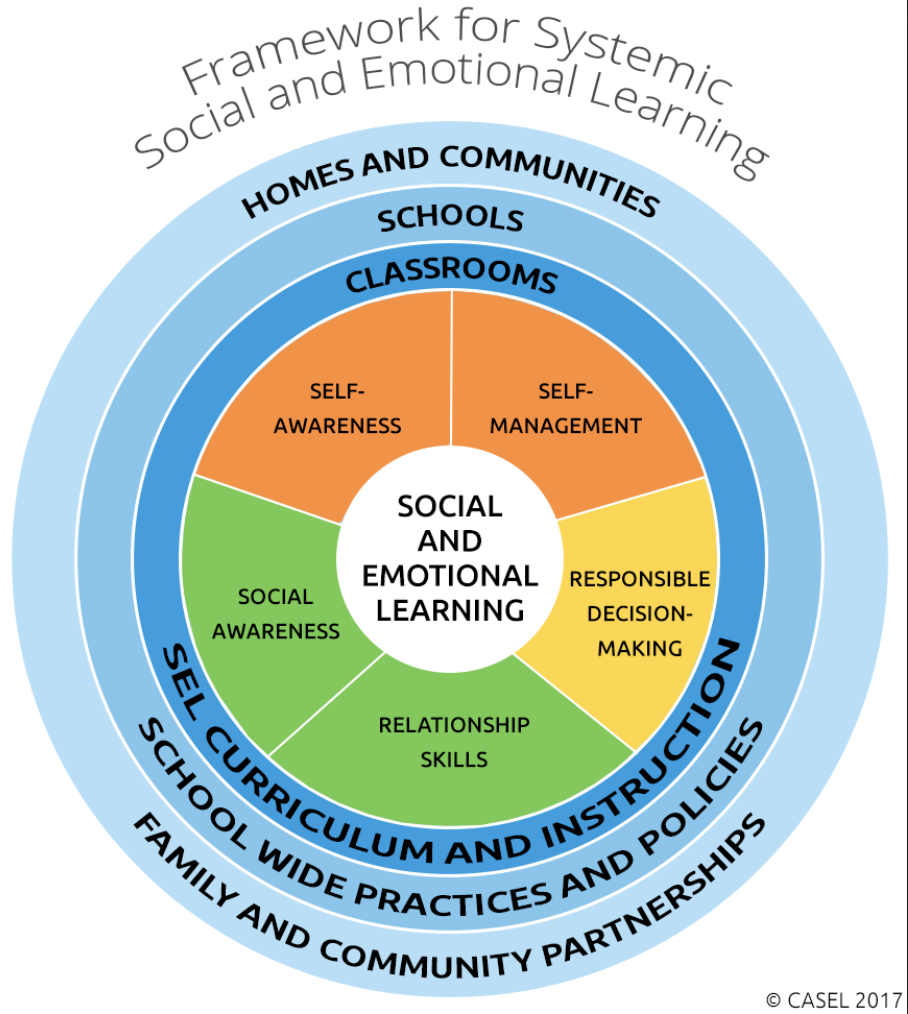 Whether you elect to use our services or not, CASEL provides the gold standard framework for trauma-informed school designers.
Short video explaining the CASEL Framework for SEL
Our team (made up of school practitioners) specializes in helping schools answer the "What Now" questions with practical classroom tools and practices all within your existing MTSS system. We come in listening first, so that we can craft a program to meet YOUR specific needs.
Design-Thinking meets Trauma-Informed School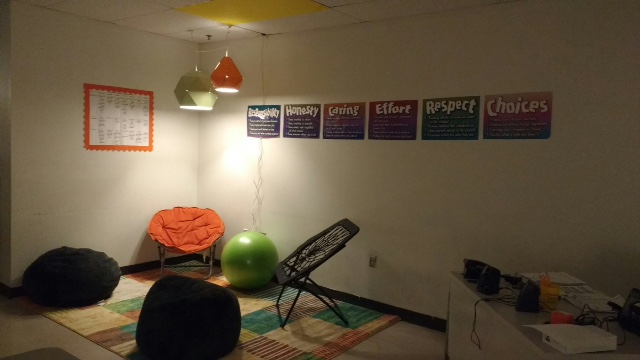 Designing Restorative Safe Spaces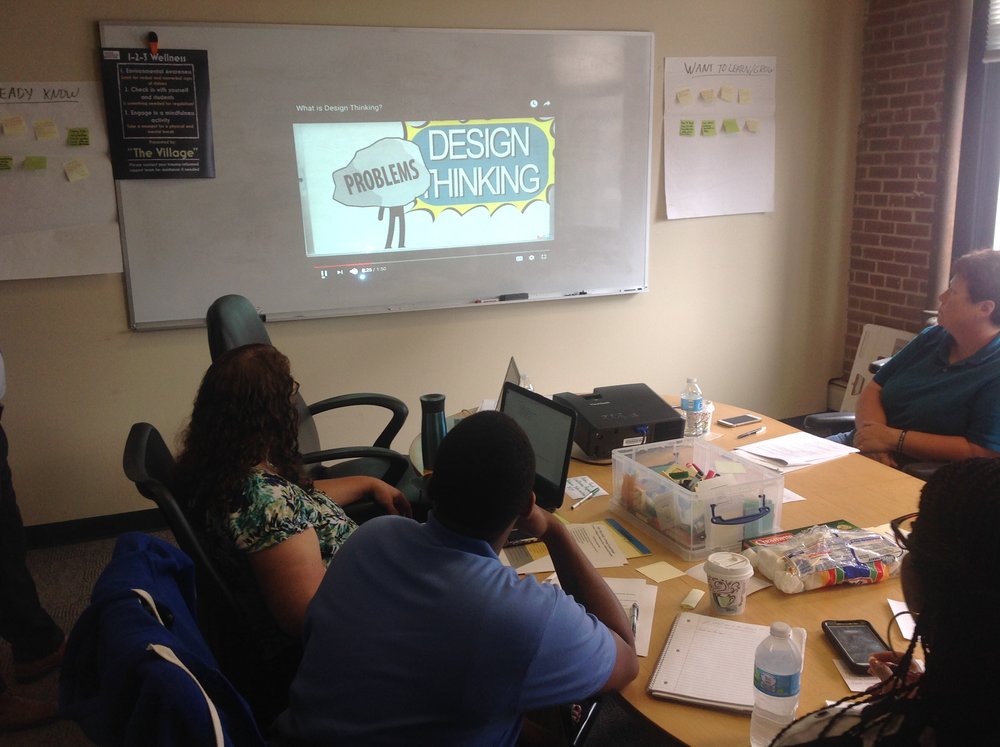 Restorative Practices Professional Development: Transforming In-School Suspension into Empowerment Centers
Understanding Trauma in the Context of Marginalized Communities:
BREAKDOWN OF SERVICES:
This menu is provided to give schools suggestive avenues in your objective to become a more resilient community. We recognized that no two districts are alike and take pride in helping you infuse this new approach within your existing MTSS structures and staffing.
COACHING
Coaching can serve as a system (adults supporting adult development and the facilitation of communication channels) for schools, districts and the community. Our current design recognizes that schools are in different stages of implementation. We propose the following developmental process based upon your time-frame (urgency) & budgetary constraints.
ON-SITE SUPPORT
Our team can provide training for coaches and classroom teachers through PLCs with follow-up observations in the classroom. Coach(es) may be a counselor, teacher, or other staff person(s). The designated coach(es) will receive both the introductory immersion training and follow-up on-site visits to assure competency in the area of coaching. We recommend this coaching position come within your current organizational structure (PBIS/MTSS).
STRATEGIC PLANNING AND EXECUTIVE-LEVEL COACHING
We recognize that leaders are busy and have multiple priorities that may impede the implementation of culture transformation and to envision a big-picture, cohesive landscape. We can faciltate in your efforts to develop strategic systems, we work to align current district resources to ensure that efforts are cohesive, practical, impactful, data driven and more. Our team supports district strategic planning teams with: Re-examining state guidelines such as; Missouri Model: A Developmental Framework for Trauma-informed, incorporating existing data (PBIS, SIS) as a tool to drive trauma-informed decision-making, and how schools can become a catalyst for their communities in this movement.
WORKSHOPS FOR EDUCATORS
It is clear that educators are hungry for the bridge that connects the AWARENESS of trauma informed information to the APPLICATION of tools that work. There is also the piece about there being a potential gap between the mental health wisdom and the application in schools. Our team structures workshops at all leadership levels. Potential topics include: Trauma-Informed Classroom Toolkit, Integrating PBIS & Restorative Practices within Trauma-informed Practices, Mindfulness for the Classroom, Teacher Wellness, Zones of Regulation, Classroom Activities to Heal the Soul, etc.
TRAUMA-INFORMED PRACTICES

This workshop offers educators practical trauma-informed tools to apply immediately when addressing behavior and school culture. As our educational community looks to improve our capacity to meet and support student needs, we are beginning to look through a different (trauma-informed) lens that helps us shift from wondering "what is wrong" with our students to "what happened to them." Later, with the tools provided in this workshop, we are able to strategically, simply and powerfully implement plans to not only meet student needs but to empower them with the tools to meet their own needs. Educators who participate in this workshop will leave with daily practices to proactively get started on the right foot as well as effective responsive (not reactive) approaches to behavior. Targets and outcomes addressed in this workshop include:
*Improved student behavior and academic outcomes due to increased focus and calm
*Increased staff knowledge of what trauma looks like and what is happening in the brain
*Increased staff capacity to effectively address student behavior in a trauma-sensitive manner
*Increased relationship building between students and staff
*Improved student and staff self-care strategies
*Decreased behavioral issues and resulting improved academic achievement
TRAIN THE TRAINER
There comes a time when every school and every district must support internal champions. This training is designed to provide these champions with the knowledge, skills and resources to sustain the journey of having a resilient and trauma informed culture. The training is 60 hours over the course of one school year. The first phase is 24 hours of immersion, the second phase includes teach back and practice, the third phase is "just in time" coaching and support with group booster sessions offered.
SUPPORT: ON SITE OR VIRTUAL
We propose to provide on-site and virtual support as needs are identified and our expertise is needed. We believe that some of the aforementioned offerings (coaching, workshops, summits, video courses) will form the foundation of your success and on-site and virtual support can serve as a responsive, complementary component to school needs. We also have a consortium network that can provide supplimental support to school teams either as an on-site or virtual support basis (for example: Trauma informed PBIS implementation, therapeutic and sensory room support/implementation, etc.).
Video Courses: We propose offering the online course called Empowered Behavior that was developed by Drew Schwartz and released in March in collaboration with Lindenwood University in St. Louis and the University of California-San Diego. The course includes 23 videos and a 60 page workbook to support learning and successful implementation. The course integrates trauma informed, Mindfulness and other wellness practices into approaches to behavior that schools are already deploying (PBIS, Character Ed, etc.). The initial feedback from school leaders including teachers and school based mental health professionals has been phenomenal. We can discuss different possibilities to roll out this opportunity for schools in the near future based on your vision and availability.
is your staff screaming for more tools and you don't have enough professional development time in the day?
Try our On-line Courses!
My colleague Drew Schwartz has applied the neuroscience of toxic stress and trauma and developed a professional development video series called Empowered Behavior that artfully connects the principles of trauma-informed within a PBIS and Restorative Practices framework. The course work can be taken as college credit through Lindenwood University and the University of California-San Diego.
or
We can bundle these courses if not taken for college credit within any of the above packages. We find this is a great way to deliver the tools for schools scrapped for quality professional development time or unable to find qualified trauma-informed trainers.
*Our courses also come with virtual coaching support when purchased as a group (PLC teams)!
The Empowered Behavior video course includes 24 powerful videos and is accompanied by an 75 page workbook with user friendly tools. You will learn:
WAYS TO PROMOTE YOUR WELLNESS AND THE WELLNESS OF YOUR STUDENTS

PRACTICAL TRAUMA INFORMED TOOLS RELATED TO BEHAVIOR

WAYS TO PROACTIVELY ADDRESS SEL NEEDS

UNIVERSAL STRATEGIES THAT WORK EFFECTIVELY WITH ALL STUDENTS

STRATEGIES FOR WORKING WITH STUDENTS WITH MORE SEVERE NEEDS

OVER 15 WAYS TO START EACH CLASS OFF WITH CALMING TECHNIQUES BASED ON NEUROLOGICAL RESEARCH
Register for the Empowered Behavior video course by clicking below (individuals):
For group discounts and virtual coaching support, please indicate that on the form.
Are you leading the trauma informed movement at your school? Do you want to empower ALL staff to become trauma informed? School packages available. Register below so that all staff members at your school can have access to the video course and learn together as a PLC.
Preview Empowered Behavior Video Course below: