Welcome! Somehow you made it to my website…So, while you are here, browse around and let me know what you think. I know many of you visiting may be starting out on your journey to become trauma-informed. For you, I have created a Resource page (treasure trove of links) that I frequently update to help you navigate. One day I'll write a book I suppose. But, for now, this information is too important to keep to myself! ~Jim Walters, aka @drjimwalters on twitter
Latest Talks With Toby video⬇︎
How important is Co-regulation? watch this video below⬇︎
On March 1, 2019, the dedication of the Aspire Academy School-Based Health Care Clinic took place. Five years prior, a small but passionate group of individuals set out on a trauma-informed school journey. We weren't sure what that all meant at the time, but serving in a health care 'desert' community we knew that our school would need to embrace the concept of the 'village'. In other words, '"You need to Maslow before you Bloom"
The Mayor of St. Louis honored us with a Proclamation! Shout out to Dr. Bates for making this vision a reality!
Our latest presentation from the Heather Forbes Trauma-Informed School Conference, Sacramento, CA, Oct. 1-2, 2018
See how 1, 2, 3 Wellness™ links up with CASEL's SEL Competencies ⬇︎⬇︎
Resiliency Rock: The un-Iceberg Model
It's easy to SAY you don't suspend K-3 students in public forums. The Design-Thinking process ensures that you can fulfill those promises in action!
It's all about Systems-Design! Or in Systems RE-Design!
Now that you have introduced yoga/mindfulness/restorative practices/PBIS/trauma-responsive practices/fill in the blank, into your daily work; how will you put it all together that will lead to strength-based learning?
The graphic and Video represents a sample from our work.
Key(s): Re-defining systems to create levels of support which include the ISS/OSS process. The critical component is a restorative "village" mindset. Your process will be different.
This video is about a rural elementary school's journey to become a trauma-informed school community. Tips: Identify your early adopters, put them in one room, and start the design-thinking process.
This is an example of our work with a district that wanted to factor in a student's 'setting events' as it pertained to traumatic past experiences.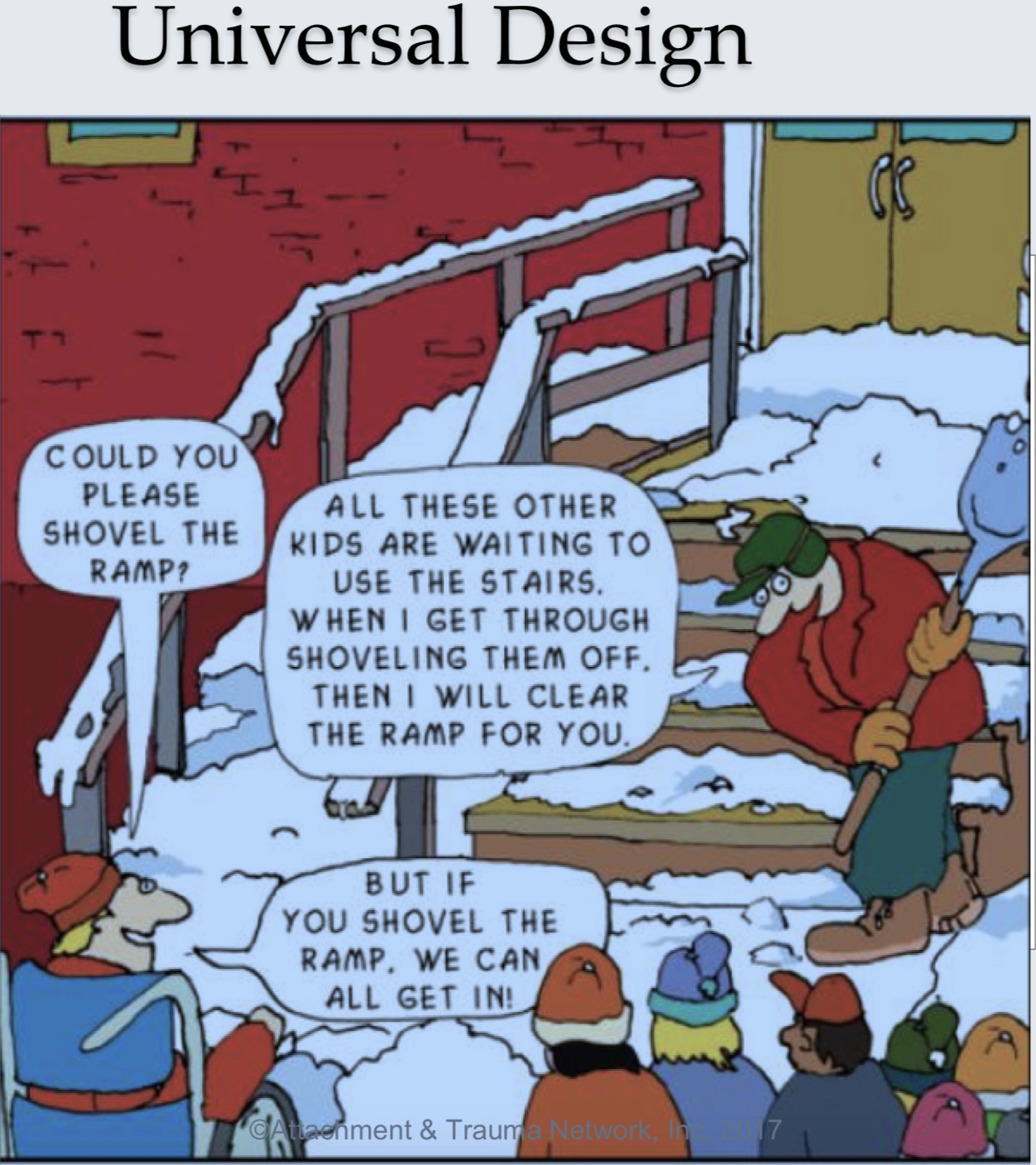 Keep in mind that this is not a "program" or about "those kids." Creating trauma-informed or sensitive schools embraces empathy as it's roadmap, acknowledges individuals as each having unique experiences, and those experiences if properly cultivated can strengthen the village. ~Jim Walters
Check out the latest video from Drew; a member of the traumainformedlearning.com team!
You are invited to SHARE this video and TAG 3 friends/colleagues who INSPIRE YOU. Challenge them to do the same to spread the positivity..... We all want to be happy. Healthy. Fully alive. We all deserve to feel capable. Cared for. Connected. What if one simple sign could change your day?
*Are you looking to become a Trauma-Informed School/District?
*Does your staff understand the need in changing the narrative from "What's Wrong with You?" to "What Happened to You?"
*Are you now faced with putting all of this new knowledge into practice?
*You fully grasp how harmful exclusionary student practices are but now need help in answering the "What Now?" or identifying alternatives to suspension questions.