Jim's Cover Letter:
In 2014, I found myself amidst the racial strife in St. Louis in what became known as Ferguson. As the Director of Professional Learning and Teacher Development of a large urban charter network, I knew we had to re-define our entire lens in addressing student behaviors after attending my first ACEs workshop. As the lead architect, it was my responsibility to synergize and bridge the mental health & trauma-informed research within the school environment. The urban school system I had been working in had around 200 students in transition (homelessness) with the majority of others impacted with high Adverse Childhood Experiences (ACEs). The District serviced a 100% free lunch population within zip codes of some of the most violent in the nation. Couple this with the racial division that plagued our city, redesigning our schools serving as community "villages" became our ultimate mission. See here for the video version of our journey: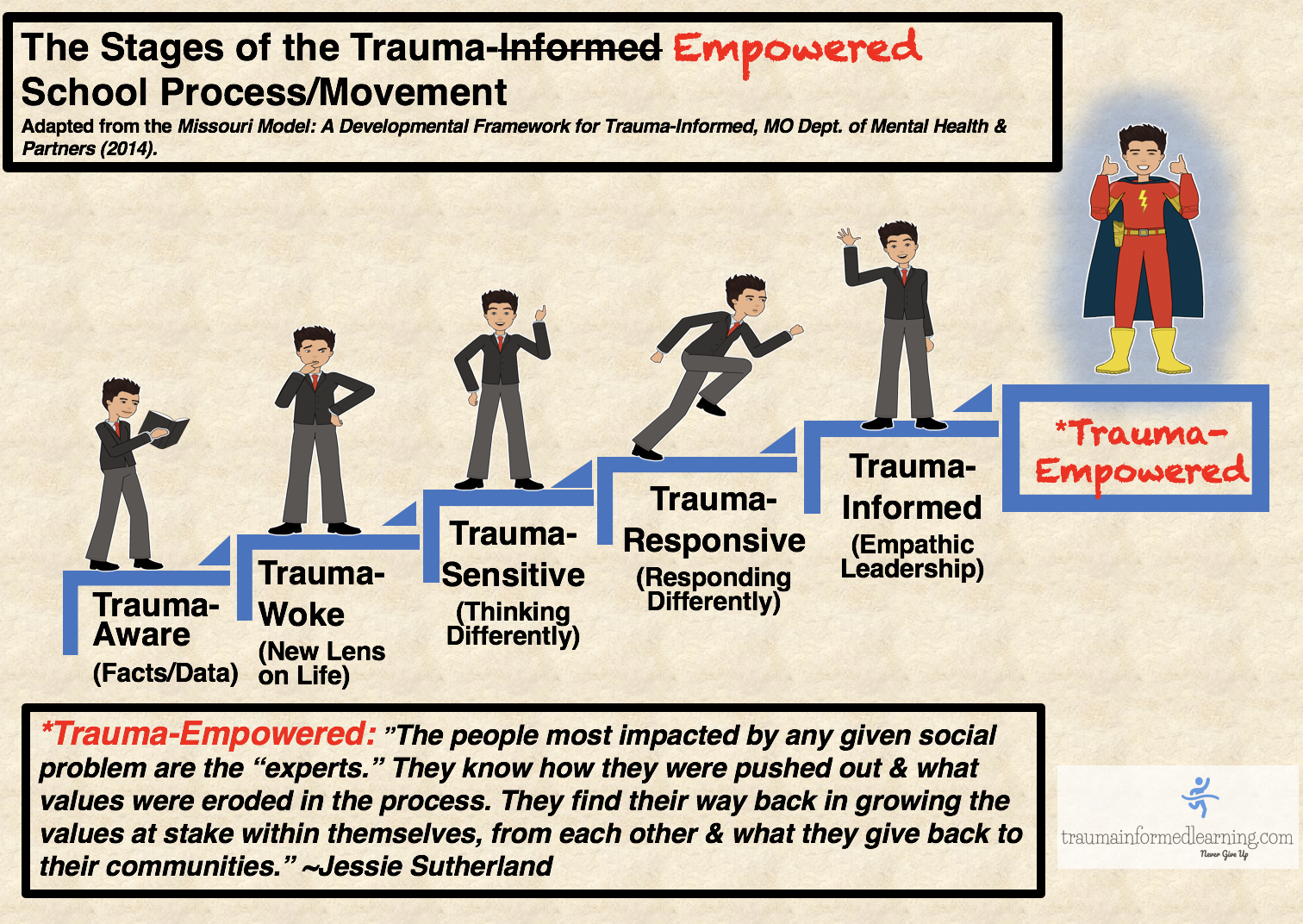 My first step as a District leader was to empower the counselors, social workers, nurses, and students as the "experts" to lead this mindshift change. This proved to be the smartest move of my career!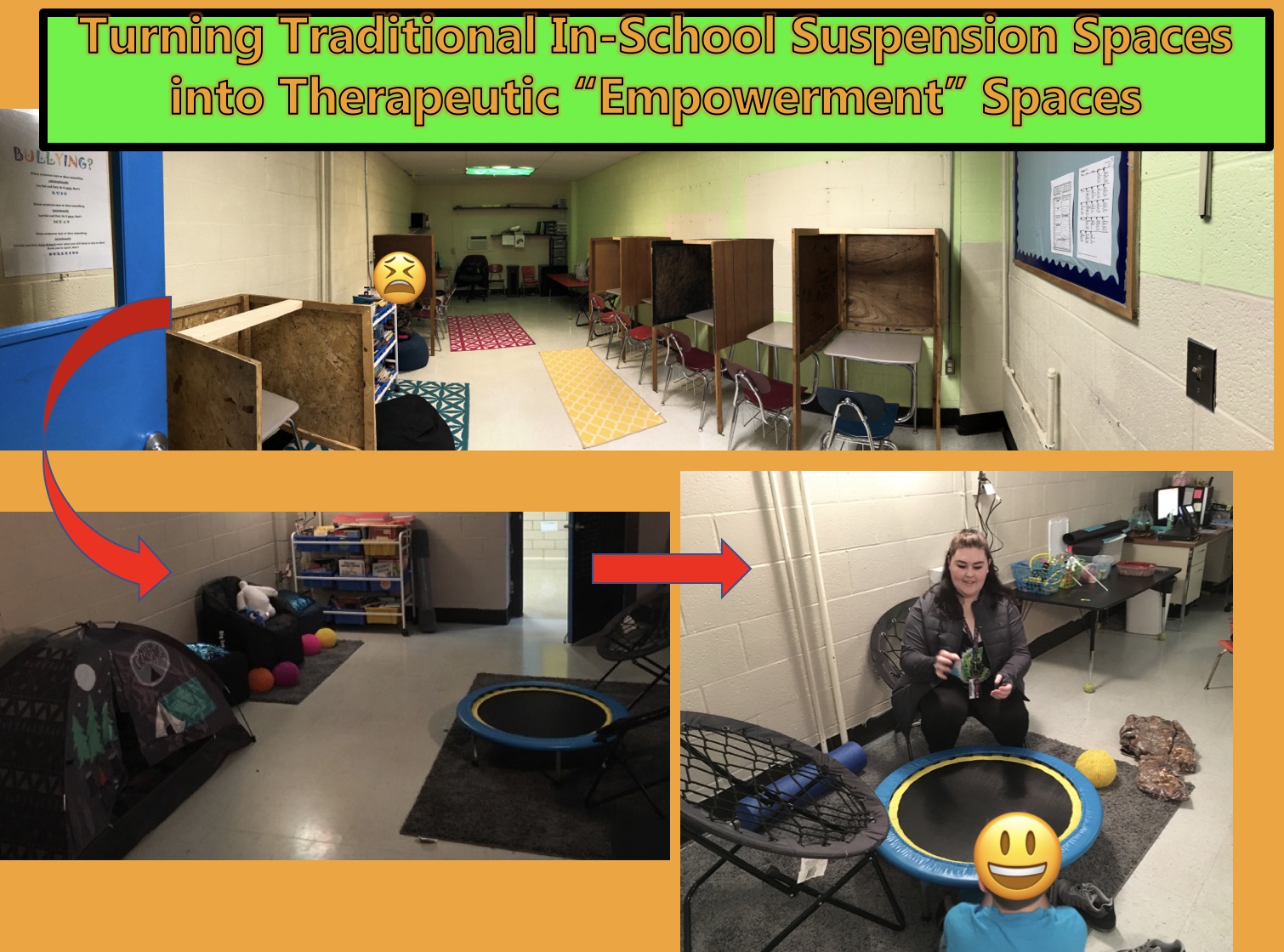 The team was tasked to design & model mindfulness programs. This led to the creation of safe or brave spaces (some call these sensory centers) throughout our campuses. Our in-school suspension rooms transitioned into restorative spaces in what I called the "Bruce Perry's Sequence of Engagement & Neurosequential Intervention Model Room" layout. In other words, these therapeutic spaces were re-designed and organized for three specific purposes: Regulate, Relate, & Reason. The intent of these therapeutic rooms was not only to service Tier 2/3 students, but also serve as a working professional development model for the rest of the teaching staff (universal practices).
In the Fall 2017, I teamed up with other early trauma-informed school champions to create what is now Traumainformedlearning.com.
My unique consulting niche resides in my 25 years as a school practitioner coupled with a working knowledge of the educational neurosciences and how these practices can positively impact the effects that toxic stress and trauma can have on our students and educators. This skillset combination allows me to better understand how to embed and deliver the trauma-responsive tools and practices within a school's already established multi-tiered system of supports (MTSS). Which is a critical component when coaching educators under daily operational stressors that come with the role of being a school leader.
I also understand as the trauma-informed school movement moves into maturity, educators are no longer content with changing the question from "what's wrong with you?" to "what happened to you?" They are thirsty for proven strategies and systems-thinking in addressing the "now what" or "how can we help?" questions. Understanding how to apply this trauma-informed lens within established school practices such as PBIS, Restorative Practices, Universal Design for Learning, Design-Thinking, etc. is a science that few can bring into the coaching model delivery.
As a freelance consultant, I am well versed in juggling the time on the road with incorporating blended learning resources and on-line conferencing using services such as ZOOM. I have found my clients to be especially appreciative knowing that they have access to an executive coach 24/7. A level of service that many busy or remote school teams do not enjoy.
Jim's doctorate dissertation looked into the correlation of PBIS Classroom Universals and it's impact on Office Discipline Referrals (ODRs). He started out in education as a High School Walking Counselor/Permanent Substitute Teacher and Coach. From there an Elementary Teacher, Assistant Principal, Principal, Central Office Director, and Trauma-Informed Teacher Support Director.
Drew is a highly sought after speaker, consultant and coach who serves as a catalyst for schools and purpose-driven organizations. He helps people tap into their potential-laden power to change the world. His goal is to transform the experiences of students, teachers and other educational leaders as they cultivate empowerment within.
Drew received his bachelors degree from Emory University in Atlanta, his Masters degree from IDC in Israel in Government and Conflict Resolution and is currently earning his doctorate from the University of California- San Diego. Additionally, he has a number of certifications which serve as fuel to help others including: Teaching certificate, Mindfulness in Schools, Executive Coaching, Cognitive Coaching, Data Based Decision Making and more.
His greatest achievement has been helping other people transform their lives- transform their communities. Drew's video courses have received rave reviews from educators revolutionizing their schools by embedding approaches like mindfulness, trauma informed practices, restorative practices and empowerment. From U.S. and International Schools of all levels, collaborating with Harvard University, or being featured in major media on 2 continents with multiple organizations, he is a non-stop force for creating positive lasting change.
Watch a couple of Drew's Inspirational Videos:
Our newest member of the trauma-informed learning team (in-training).
Toby is a sweet labradoodle mix that was neglected by his previous owner. When I found him at a shelter he was all bones and seeking love. He loves to play with his toys as you can see in the picture. He also loves cuddles and fetching balls.